pamphlets / book projects
Loop in the Landscape
Commissioned and produced by Ginkgo Projects and written in collaboration with local residents of Amesbury, Loop in the Landscape is a three-part assembly of poems, photographs and prompts for being in the ancient Stonehenge landscape.
The yellow loop can be removed and spun up in the air to recreate the writing exercises documented in the booklet.
Photography by artist and writer Ellen Wilkinson. Design by City Edition Studio. Published in a hand-tied edition of 250. Please get in touch if you would like to receive a copy of the publication.
north fifty one thirty one thirty three by west two forty six fifty one
A sea prayer and prose poem written during the observation of a fata morgana that lifted Denny island from the Bristol Channel (and the English water border). It was composed on-site among the guts and brews and t-bar hook disgorgers aboard a small fishing vessel in the middle of the Bristol and takes its form from 'A Thankesgiuing for Mariner being safely landed' in Thomas Dekker's Foure Birds of Noahs Arke (London, 1609).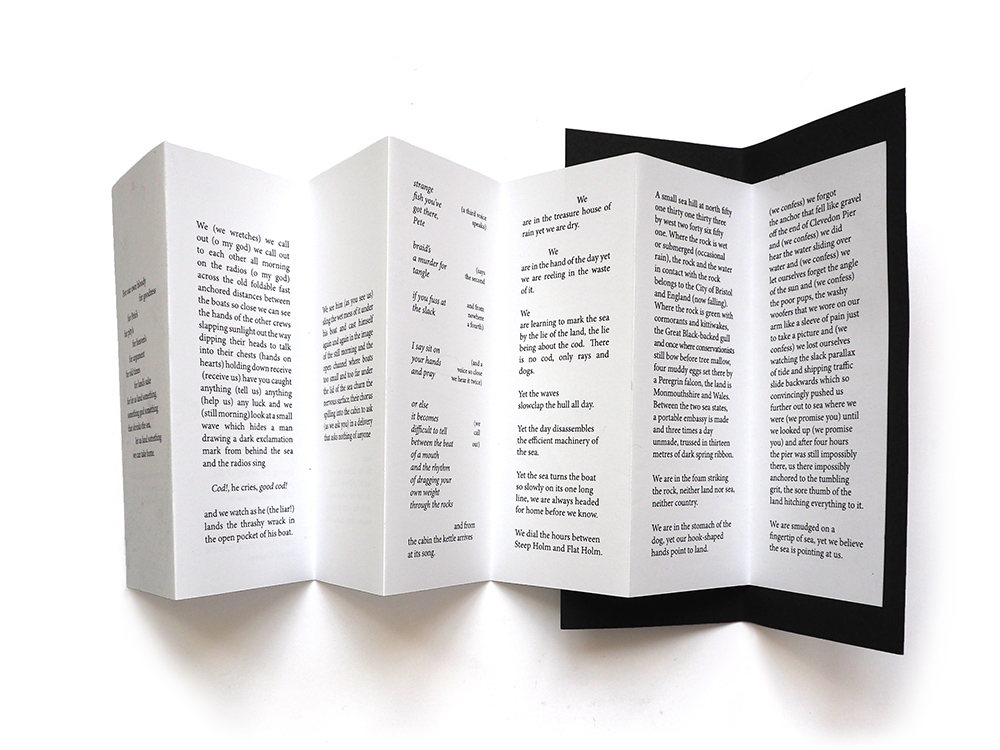 Commissioned by University of Bristol's Perspectives from the Sea Research Cluster and produced as a concertina pamphlet with a foiled fata morgana of a floating Denny Island on the cover. The first edition was distributed at the first performance at Being at Sea on the 18th November 2015
Second edition
SOLD OUT
---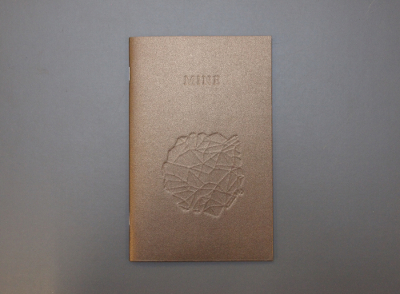 MINE
Spike Island, Bristol: 2014
Risograph printed at City Edition Studio
Edition limited to 100 copies.
ISBN 978-0-9574490-2-2
£5
Copies available from Spike Island.
---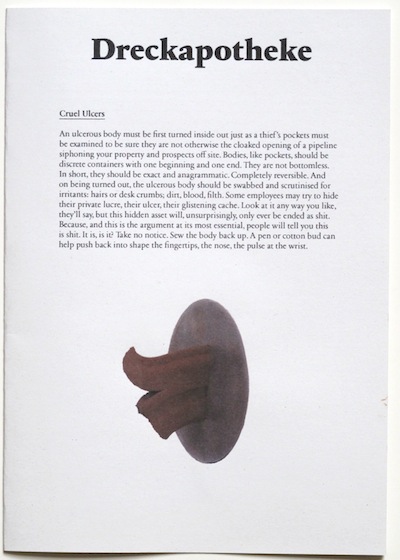 Dreckapotheke
The District, Cambridge: 2014
Catalogue essay of filth pharmacy and shit talk commissioned for The Shit Job Machine, an installation by Lawrence Epps at The Frontroom, Cambridge.  9-24 January 2014.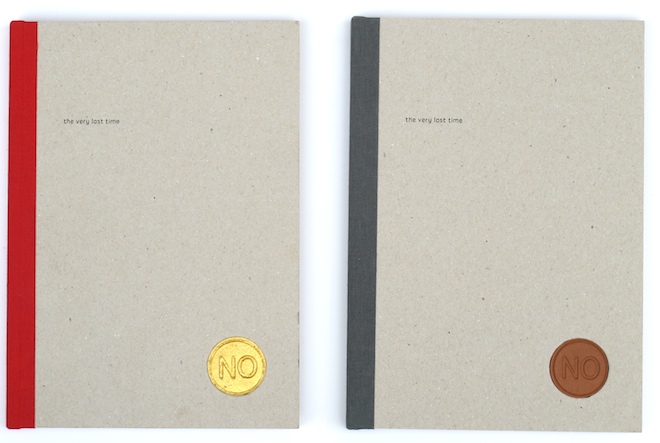 ambergris editions, Cambridge: 2015
Book of chance and collection of new writing edited with artist Lawrence Epps with contributions from poet Joey Connolly, Fyodor Dostoevsky and Anna Gunin, numismatist Dr Richard Kelleher, Professor Esther Leslie, psychoanalyst Viktor Mazin and Anne Marie Jackson, valuation expert and jeweller Geoffrey Munn, artists Tamarin Norwood and Marie Toseland
£20 / £35
Available to buy in two editions (gold and terracotta) from Wysing Arts Centre and ambergris editions.
poems / short fiction
On caves, Junction Box (September 2017)
Ponds, Aquanauts (Sidekick Books, 2017)
Lump Sum, Say When, Z and When in Magma 67 (March 2017)
Anniversary, Circlet, Female Vapourer Moth and Home Fires in Ambit 226 (October 2016)
Deepwater and Fisher, The Emma Press Anthology of the Sea, ed. by Eve Lacey (October 2016)
Puffin and Bar-Tailed Godwit, Birdbook IV: Saltwater and Shore (Sidekick Books, 2016)
Unborn Ichthyosaur at Bristol Museum and Fisher, The Enchanting Verses Literary Review Issue XXIII, ed. by Harry Man
Loxodrome, Best New British and Irish Poets (Eyewear, 2016) 
Deepwater, Poetry (February 2016)
Charm Against Wednesdays; Deep Field; From What I Remember, The Junket Issue XVI
1814, For Every Year
Total Destructive Interference, Poetry Wales 51.2
Caddisfly, The Rialto 84
Avulsion, Ambit 222
Brake Lights, The Clearing
Male Vapourer Moth, Crush and Flag, Wassailing: Jerwood/Arvon Mentoring Scheme 2014/15 Anthology
Jets of Fire, para·text 1
Cavity, JUNGFTAK
YK:HCC,  Likestarlings, collaborative sequence with Youna Kwak
Close, Visual Verse, Vol. 1: Ch. 9
and one more time, from the heart, Litro: Family Ties
Insula, The Island Review
Syncopate / Boundary / Antilabe, Iota 93
Slow Light / Diving Lesson, New Linear Perspectives
Teneral, The Echoing Gallery: Bristol Poets and Art in the city, ed. by Rachael Boast (Bristol: Redcliffe Press, 2013)
Char, Poetry London no.76
Gliss, Penning Perfumes: an e-book anthology edited by Claire Trevien and Odette Toilette is free for download, Vol. 2
Hednesford Hills, Magma 54
Fog, Ambit 209
art writing / reviews
Hedwig Houben, frieze 185 (Jan/Feb 2017)
Joshua Bilton, Undersong: Commissioned Text, SPACE Mare Street (June 2016)
Julie Born-Schwartz, frieze 179 (May 2016)
John Akomfrah, frieze 178 (April 2016)
Katrina Palmer, frieze online (Frieze Writer's Prize, October 2015) 
residencies
South West Outdoors Festival (2018)
Tyntesfield, National Trust (2018)
Wordsworth Trust (2017)
Bristol Poetry Institute, University of Bristol (2014)
Spike Island, Bristol (2013)
Ceramic Review (2013)
Curfew Tower, Cushendall (2013)
Factory Nights, Stoke-on-Trent (2012)